MYRTILLE
Bed and breakfast
Usson en forez
Tel : 04 77 50 90 83
the house MYRTILLE
suggests an linguistic holiday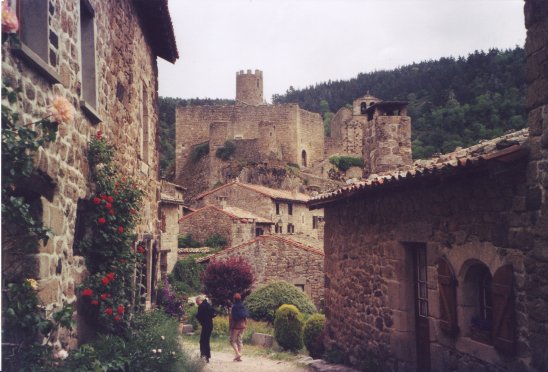 Village of CHALENCON

1st day :
Visit the city PUY EN VELAY (100km to and back with your personal cars )
Also visit the chapel ST MICHEL d'AIGUILHE,
This chapel came 3rd in a popular French monument TV compotition in 2014
Then back home for dinner, if you wish you can help me cook, and we can chat at the same time(in French of course ! )
we will be cooking «rappé , bœuf Bourguignon , petit salé aux lentilles » …..
Special dishes from this area, and secret recipes just for you!
2 nd day :
In the morning, one and half an hour studying orally a French text.
In the afternoon a little ride in a vintage collection car CITROEN TRACTION from my grand-father -1953- or in SIMCA ARONDE the same age
Then a visit to écomusée in USSON EN FOREZ.

the bridge "PONT DU DIABLE"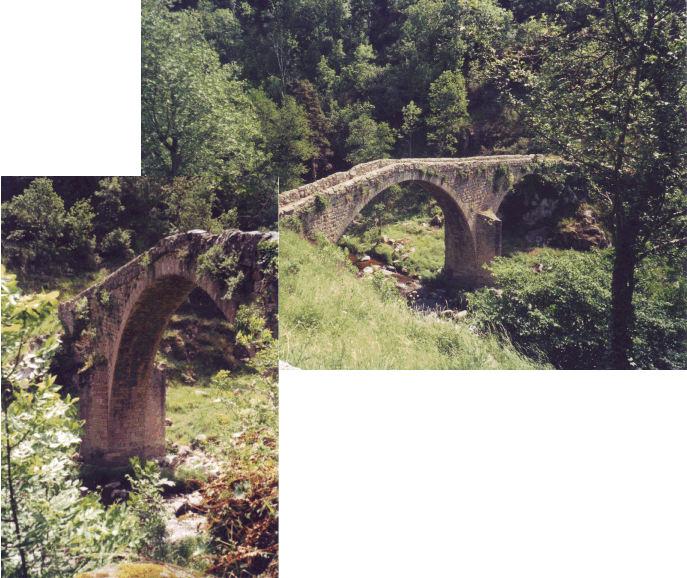 3 rd day :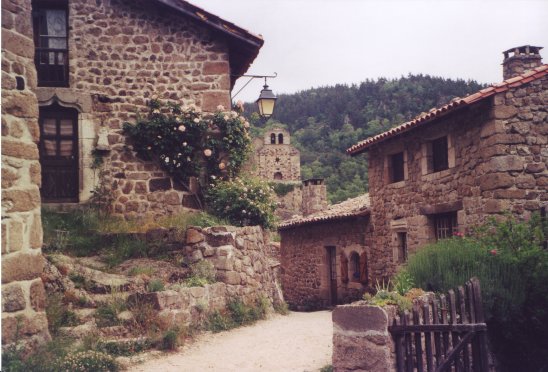 Visit the médiéval village of CHALENCON with a little walk to the pont du DIABLE , and go up to the BOURIANNE where lava flowed,
(take good shoes !)
4 th day :

A little touristic tour , a visit to the volcano of MONTPELOUX ,and later a visit to the MONTARCHER village, and MAROLS village, then ST BONNET LE CHATEAU .
If we have more time let's go to the « la boule de pétanque »museum.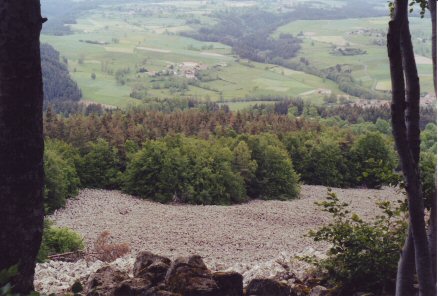 Lava flow of BOURRIANE


These visits could be changed or swaped because of weather, or because of your abilities .
5 th day :
A visit to LAVAUDIEU village , listed amongst the nicest villages of France .
If you wish stay longer, lot's of touristic's places are still waitting to be discovered …
We could have also the opportunity to walk on the St Jaques de Compostelle way , from Montarcher until the house, 15 km, really picturesque paths...
All these days will be spent with me, from breakfast until the evening meal,I will take both meals with you.
Of course you will be obliged to speak French all day long, I don't speak a word of German !!!

RATES : Night-breakfast-evening meal (vine included)
For this linguistic holiday I need at least 4 people to book for the same dates.
* a double room : 67 € per person
* a single room : 98 € per person

Not included in these rates, the midday meal , expenses to go to the different places with your cars, and the entrance fees for museums.
http://chambre.myrtille.chez-alice.fr/
HOME